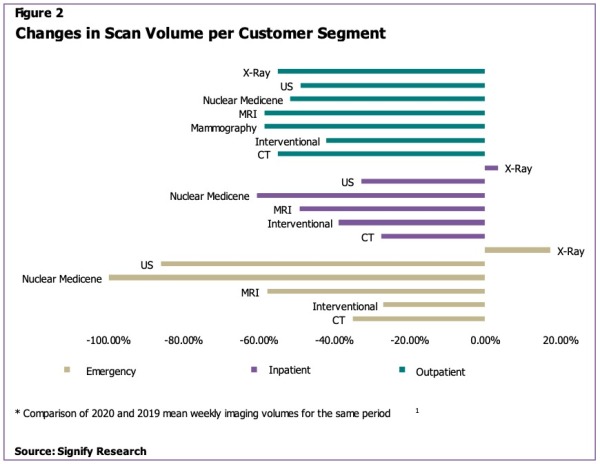 An April 2020 IMV survey in Europe showed more than 50% of healthcare provider respondents expected these volumes to return to normal in 2-3 months, whereas almost 25% expect this to take more than 4 months.
As the effect of the virus lessens and restrictions are lifted in 2H 2020, many radiologists are expecting a "reservoir" of scheduled exams to spike demand and create further challenges for healthcare providers to address. The knock-on effect of high-volume use will be increased wear and tear on existing X-ray systems and a growing focus on efficiency and patient throughput. For this reason, healthcare providers are unlikely to cancel or postpone the installation of previously scheduled radiography and fluoroscopy system replacements and instead are more likely to bring forward renewals in order to increase efficiency. As logistical channels reopen, we predict a clear upturn, continuing into 2021 and 2022.

SRI is a leading Developer, Manufacturer & Supplier of Innovative Portable Imaging Equipment. We offer Lightweight, Agile, Easy to Maneuver Portable X-Ray Systems ideal for maneuvering in tight spaces. Call us at 631-244-8200

2) Order books remain healthy
Recent financial guidance from healthcare technology vendors have made it very clear a drastic market decline is not expected mid-term, with orders merely delayed rather than cancelled. This is something echoed across all healthcare markets to some extent, from our analysis of recent financial investor calls, with vendors reporting healthy order books. For example:
Bernd Montag, speaking on behalf of all imaging equipment for Siemens Healthineers described in the latest Q1 earnings call:
"In equipment, we believe there will be pent-up demand as the crisis does not change the underlying health care drivers."
"So, when we ... and when it comes to installations, we have a very healthy order book. And this is just a timing topic when hospitals get back to taking deliveries."
Abhijit Bhattacharya speaking on behalf of Philips Healthcare stated:
"It is important to note that we have not seen any cancellation of orders due to the COVID-19 outbreak."
3) Radiography and Fluoroscopy will likely be least affected amongst potential imaging budget cuts, though emerging markets have a more risky outlook
In addition to this, midterm healthcare budgets are less likely to be slashed as providers benefit from the range of stimulus packages designed to support them in this difficult time. The U.S., China, Japan, and Europe, which together account for most of the market, have all announced multi-billions in preparation for this, although it is unclear how effective these will be at this early stage.