BEDFORD, Mass.--(BUSINESS WIRE)--NinePoint Medical, Inc., a transformative medical device company pioneering the use of a real-time optical imaging platform for gastrointestinal applications, announced today that it has received U.S. Food and Drug Administration (FDA) clearance to market the NvisionVLE® Imaging System for use in the pancreas and bile duct. These anatomical indications add to the previously existing esophageal applications for NinePoint's state-of-the-art Optical Coherence Tomography (OCT) imaging platform.
The NvisionVLE Imaging System provides physicians real-time, high-resolution volumetric images of the tissue surface and subsurface. This allows gastroenterologists to thoroughly evaluate tissue for regions of interest that may not be visible with other medical imaging technologies. The newly cleared application is associated with NinePoint's Low-Profile Optical Probe, a 7 French diameter imaging probe designed to handle small and tortuous anatomies, such as those found in the pancreatico-biliary system. In the pancreas and bile duct, the ability to see beneath the tissue surface could help physicians answer a number of important clinical questions.
"When a patient enters our care with an undiagnosed condition in the pancreatico-biliary system, the stakes can be very high," said Isaac Raijman, MD, previously the Chief of Gastroenterology at Baylor St. Luke's Medical Center. "We have a number of tools today to help evaluate a patient's condition within this anatomy. Unfortunately in many cases, our current toolset is unable to provide enough information to determine the best course of action. This is especially concerning for strictures or blockages of unknown origin. We are hopeful and excited that imaging beneath the surface with the NinePoint technology will supply the missing link and will enhance our clinical decision-making for these critically ill patients."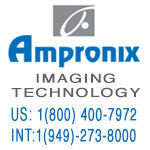 Special-Pricing Available on Medical Displays, Patient Monitors, Recorders, Printers, Media, Ultrasound Machines, and Cameras.This includes Top Brands such as SONY, BARCO, NDS, NEC, LG, EDAN, EIZO, ELO, FSN, PANASONIC, MITSUBISHI, OLYMPUS, & WIDE.

This clearance marks another significant step for the strategic collaboration between NinePoint Medical and their exclusive worldwide distributor, Merit Medical Systems, Inc. (NASDAQ: MMSI). "NinePoint continues to produce innovative and high quality products that our team has been very impressed with," said Fred P. Lampropoulos, Chairman and CEO of Merit Medical. "The addition of new applications for the NvisionVLE Imaging System is important to demonstrate not just the quality but breadth of value the technology brings to hospitals and patients. We're thrilled to add this to our suite of Merit Medical endoscopy products, and look forward to more great things from our collaboration with NinePoint."