by
Lisa Chamoff
, Contributing Reporter | May 27, 2019
From the May 2019 issue of HealthCare Business News magazine
It's no secret that hospitals are overloaded with data, at a time when the clinician-to-patient ratio has been shrinking.
Patient monitor manufacturers are responding by improving workflows and the user interfaces on their products – think touchscreens – while moving into remote monitoring and EHR integration.
Here's a look at what's new from some of the leading patient monitor manufacturers.
Amplion
In the last year, Amplion has rolled out updates to its CareAssurance Nurse Call product that included advanced analytics around total care time.
RTLS systems generally measure the time each caregiver is in the room, said Lee Clark, president and chief executive officer of Amplion. Using advanced algorithms, the Amplion system measures the total amount of time all caregivers are in the room.
"What we are able to do is correlate actual alarms to the time spend with the patient," Clark said. "In terms of patient care, it allows the facility to staff in terms of the acuity level of the patients."
Previously, with what looked like seven different visits to a patient over a 30-minute time period, the care delivered to patient actually took three minutes, Clark said. This information allows facilities to streamline processes and make them more efficient.
"We've re-engineered the analytics platform to make it more robust," Clark said. "We've been correlating data across teams, so it's not about the individual caregiver, it's about the care given to the patient. ... The data allows you to make staffing decision, adjust on the fly and it ultimately enables you to make sure the right care is delivered at the right time."
Amplion offers the advanced analytics to facilities through a subscription-based service.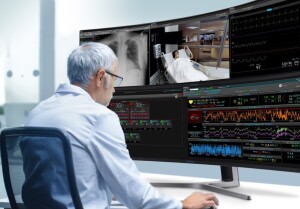 GE Healthcare
At HIMSS 2019, GE Healthcare launched two products that the company says addresses some of the major trends in patient monitoring, including reduced clinician to patient ratios in hospitals and variation in care delivery.
In the cardiac telemetry space, GE Healthcare's Digital Centralized Monitoring Unit (CMU) provides a scalable, intelligent, enterprise wide solution that digitizes manual processes to help drive patient vigilance. GE Healthcare's Digital CMU can improve clinician workflows around event notification, mobile visualization and care team collaboration to boost effectiveness and accelerate alarm-⁠to-⁠intervention response times.