by
Lauren Dubinsky
, Senior Reporter | November 15, 2018
Philips announced today the integration of its IntelliSpace Enterprise Edition and PerformanceBridge solution in the lead up to this year's RSNA annual meeting.
The company also announced that this new integrated solution will be rolled out at Jackson Health System in Florida.
"What we see today is that many of our customers don't have an enterprise imaging solution, but [instead] have islands of solutions," Yair Briman, business leader of healthcare informatics at Philips, told HCB News. "They have a PACS for radiology, another one for cardiology, another solution for advanced visualization and so on."

Special-Pricing Available on Medical Displays, Patient Monitors, Recorders, Printers, Media, Ultrasound Machines, and Cameras.This includes Top Brands such as SONY, BARCO, NDS, NEC, LG, EDAN, EIZO, ELO, FSN, PANASONIC, MITSUBISHI, OLYMPUS, & WIDE.

The IntelliSpace Enterprise Edition combines Philips IntelliSpace Radiology, Cardiology portfolios and now PerformanceBridge into a scalable, interoperable and secure hospital-wide solution for clinical and operational informatics.
"Informatics is a huge area and we believe that there is a lot of knowledge that is given in the information on specific modalities, but even more so when you start integrating different sources of information and looking at data over time," said Briman.
PerformanceBridge, which was introduced at RSNA 2016, is a suite of performance management software and services that help radiology departments improve productivity. It prioritizes operational improvements in asset management, equipment uptime and utilization, peer-to-peer collaboration, accreditation compliance and practice management.
The integration of the IntelliSpace Enterprise Edition and PerformanceBridge closes the gap between data and decision-making across the enterprise.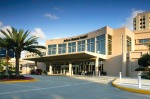 Today's announcement is an expansion of a partnership that Jackson Health System and Philips entered into in July. The 11-year partnership is based on an Enterprise Monitoring as a Service (EMaaS) model that allows the health system to implement the latest patient monitoring systems for a per-patient fee.
"By adding Philips' IntelliSpace Enterprise Edition to our existing range of applications, we're continuing to leverage innovative business models and partnerships to empower our clinicians to deliver the best care possible through the use of technology," Michael Garcia, senior vice president and chief information officer at Jackson Health System, said in a statement.
Philips has also signed IntelliSpace Enterprise Edition agreements with other leading health systems in North America. The names of those health systems have not been disclosed at this time.