The unveiling of the Israeli enterprise's research follows the recent
CE markings
for its seventh AI imaging algorithm, designed to detect suspected malignant lesions in mammograms,
and
its bleed detection algorithm.
In addition to the unveiling of its research, Zebra Medical Vision also announced its C round funding of $30 million, bring its total investment as a company to $50 million. AMoon Ventures led the investment, which included Aurum, Johnson & Johnson Innovation JJDC Inc., Intermountain Healthcare, and leading global AI scientists, professor Fei Fei Lee and Richard Socher.
Story Continues Below Advertisement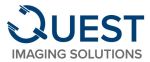 KenQuest provides all major brands of surgical c-arms (new and refurbished) and carries a large inventory for purchase or rent. With over 20 years in the medical equipment business we can help you fulfill your equipment needs

The company is currently exploring a similar technique for AP chest X-ray scans, and musculoskeletal and abdominal radiographies.
The findings are available on the arXiv.org e-Print archive and will be presented at the 21st International Conference on Medical Image Computing and Computer Assisted Intervention this September in Granada, Spain.
Back to HCB News