From the August 2017 issue of HealthCare Business News magazine
Avante Health Solutions
Booth #B.P10
Avante Health Solutions is your one source to maximize capital equipment performance. In an environment where doing more with less is essential, Avante brought together the best of the best in the industry to deliver the broadest range of products and services all from one place and well within budget. The Avante brands include Pacific Medical, GMI, DRE, Integrated Services, Oncology Services International and Transtate. Together we offer complete life cycle solutions for Patient Monitoring Equipment, Imaging Equipment, Med/Surg & OR Equipment and Radiology Oncology Services.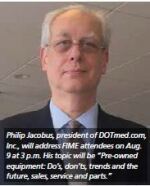 DOTmed.com
Booth # B.K19
DOTmed.com is the world's leading public medical equipment, parts and service marketplace – with over 650,000 listings on any given day. DOTmed has the largest selection of new and used equipment of any online marketplace. Anyone can post, auction, buy or sell new and used equipment and parts on DOTmed – and registering is free. We have more than 22,000 unique visitors a day and over a quarter-million registered users. Buyers and sellers contact each other directly – we do not own anything for sale on our site. Health care providers can sell commission-free by posting their high-value surplus equipment on a DOTmed private sale. For low-value surplus equipment, we offer our Clean Sweep Auctions. We also publish an industry-leading magazine, HealthCare Business News, and HealthCare Business Daily News online and the industry-leading annual Buyer's Guide, which features over 200 pages of the top equipment and services dealers, and is given away free at FIME. Just come by and ask for one.

Special-Pricing Available on Medical Displays, Patient Monitors, Recorders, Printers, Media, Ultrasound Machines, and Cameras.This includes Top Brands such as SONY, BARCO, NDS, NEC, LG, EDAN, EIZO, ELO, FSN, PANASONIC, MITSUBISHI, OLYMPUS, & WIDE.

Dunlee
Booth #B.G41
For ISOs and In-House Teams who replace CT tubes at Hospitals and Imaging Centers, Dunlee's replacement tubes and support services help minimize total replacement costs and scanner downtime. Dunlee quickly delivers quality products and provides 24/7 support to a network of satisfied ISOs who rely on Dunlee to help them maintain their customers' CT scanners.
Injector Support & Service
Booth #B.G50
Injector Support & Service provides professional, timely and superior technical support and service for medical contrast injectors. We strive to reduce your overall injector maintenance cost and reduce manufacturer dependency. By offering biomed technical support, parts identification and sales, on-site and depot repair services with loaner injectors, we have effectively eliminated the need for expensive manufacturer service contracts.
Medical Illumination International
Booth #B.L19
Medical Illumination International, Inc., along with its Nuvo division, is a world leader in surgical lights, procedural lights, exam lights, surgical tables, ceiling columns and video management systems. Manufacturing highly featured, quality lights in San Fernando, California, since 1978. MI recently announced the release of the UV24 air purification system. The patented system incorporates a standard florescent or LED room light with UV-C to eliminate airborne pathogens. The UV24 can be installed anywhere because there is no direct UV exposure to patients or staff. Therefore it's working 24/7/365 keeping the air clean and safe from MRSA, C.Diff, TB, Influenza, etc.