by
Sean Ruck
, Contributing Editor | December 01, 2015
From the November 2015 issue of HealthCare Business News magazine
SCHOTT North America, ROHS Compliant Monolithic Faceplates – Booth 1906, Hall A
As the demands for digital imaging applications require faster speeds and higher dosage levels, SCHOTT has developed its Large Format Fiber Optic Faceplate as the protective x-ray barrier for CMOS/CCD detectors. With sizes up to 430 x 430mm, SCHOTT's 47ARH and new RFG-92A glasses provide excellent X-ray absorption and contrast, while transmitting high resolution images to the detector. SCHOTT Lighting and Imaging specializes in design and manufacture of fiber optic, LED, optical and hybrid product solutions for use in medical, dental, scientific, industrial, defense and transportation applications.

Special-Pricing Available on Medical Displays, Patient Monitors, Recorders, Printers, Media, Ultrasound Machines, and Cameras.This includes Top Brands such as SONY, BARCO, NDS, NEC, LG, EDAN, EIZO, ELO, FSN, PANASONIC, MITSUBISHI, OLYMPUS, & WIDE.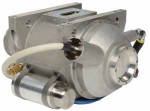 Varian Medical Systems, Cardinal CT Tube – Booth 4303, Hall A
Varian's Cardinal CT housing is a direct replacement for the Stargate/CTR-2150 tube used in Philips Brilliance 6® and 16 CT scanners. The Cardinal has a high heat capacity with excellent image quality and throughput allowing for quicker imaging which translates into cost savings to the medical facilities  
Assured Imaging
Mobile 3D Mammography Coach – Booth 4378, Hall A
Our 45" unit is equipped with the latest in mobile coach comfort: slide-out technology, wheelchair accessibility, patient waiting area, and private changing rooms. Our two screening rooms utilize leading-edge equipment including Hologic Genius™ 3D mammography and bone densitometry systems. Unit is built on a durable freightliner "million-mile" chassis and drive train with the latest in CBL1 air ride reducing vibration to equipment. Upgraded power source provides equipment backup and redundancy without causing frequency issues. The unit includes advanced A/C and heating with low voltage draw and is self-contained to utilize generators or shoreline power.