by
Nancy Ryerson
, Staff Writer | January 14, 2013
From the January 2013 issue of HealthCare Business News magazine
There's an easy way hospitals can save thousands of dollars a year while reducing their waste output and helping the planet: single-use device reprocessing. Devices labeled for single use are disinfected and otherwise made good as new at an offsite facility in an FDA-approved process. Reprocessed products are used at nearly 70 percent of hospitals in the U.S., including 16 of the country's 17 Honor Roll hospitals as ranked by U.S. News & World Report. The FDA has found no higher risk of adverse events from reprocessed SUDs than from new ones. So why are some facilities still hesitant to get started?
"The first reaction is kind of a 'yuck' factor," says Chris Lavanchy, engineering director at ECRI Institute. "Using something that was used on someone else, would I really want this used on me?"
According to single-use device reprocessors, and Lavanchy, the practice should be considered if it's practical and makes financial sense. Thanks to extensive testing and FDA clearance before reprocessed devices can even hit the market, most experts say SUD reprocessing is safe, effective and saves a considerable amount of money. And it's popular: the industry's worth has grown from $20 million to a $400 million a year, even as some manufacturers remain adamantly against the practice citing concerns about safety as well as its impact to their bottom lines. The story of how SUD reprocessing grew from unregulated processes in hospital basements into a multi-million dollar industry is one that includes many safety reports and even a little high drama that continues to this day, as more and more hospitals incorporate it into their cost-saving and sustainability decisions.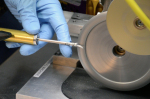 A brief history of reprocessing
Many of the devices that are labeled for single use today started out as multiple-use. Some device manufacturers decided to transition to single-use only devices in the 1980s, partly because of the AIDs epidemic. In the mid-1990s, SUD reprocessing companies emerged in reaction to facilities' interest in reusing certain devices, especially minimally invasive ones.