by
Nancy Ryerson
, Staff Writer | January 18, 2013
From the January 2013 issue of HealthCare Business News magazine
Sustainable food services offer tasty meals and green choices beyond lime Jell-O.
Unless you work at a hospital, a hospital cafeteria is not likely to be high on your list of places to go for lunch. With meal options second only to airline food for their reputation of being inedible, some health care facilities are introducing new menus and taking steps to serve up tastier offerings. Visitors to those facilities are often pleasantly surprised to find options like Alaskan wild salmon nestled in a bed of kale, or lavender scones made with ingredients freshly picked from the hospital's roof garden. And the groundbreaking food services at these facilities aren't just delicious – they're healthy for patients, visitors and even the planet.
"We all know that food in hospitals has a bad rap, with things like Jell-O and gray meat," says Michelle Gottlieb, co-coordinator of Healthy Food in Health Care, an organization committed to helping hospitals offer nutritious and sustainable foods. "We started looking into the cafeteria and at what's put onto the patient trays, saying this isn't right. Hospitals should be healing people, not serving this kind of food." Five of the hospitals profiled here have taken the Healthy Food in Health Care Pledge. Among other goals, those who take the pledge promise to work with local farmers and suppliers, increase the hospital's offering of fruits, vegetables and other minimally processed foods, minimize food waste and educate employees and patients. The goal is to use food services as a part of prevention-based health care by reducing unhealthy food as well as the toxins and pollutants that turn up in the food system. More than 400 hospitals and seven food service contractors have taken the pledge so far. That means there have been some promising steps made to cut down on the carbon footprint of hospital food services while providing healthy, enjoyable food people would actually consider ordering for takeout.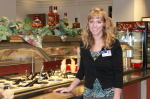 Adventist Medical Center
Location:
Portland, Ore.
Sustainable since:
Its inception. Because vegetarianism is a pillar of the Seventh-day Adventist church, the cafeteria has been vegetarian since the hospital opened. The all-vegan LivingWell Bistro opened in October of 2011.