by
Diana Bradley
, Staff Writer | June 19, 2012
From the June 2012 issue of HealthCare Business News magazine
Cost and impact
Historically, cardiologists had nuclear equipment in their practice simply because they wanted to provide better care for their patients. But today, because of CMS changes, if a facility wants to be reimbursed by Medicare or Medicaid, they need to be ACR accredited. Many facilities do not want to take on that additional burden, so are now opting to merge with hospitals.
One-third of nuclear imaging sites are currently physician office locations, including: cardiology offices, multispecialty clinics, and imaging centers. But going forward, only one in six of planned camera purchases through 2013 will be from physician offices, says IMV Medical Information Division's report.

Quest Imaging Solutions provides all major brands of surgical c-arms (new and refurbished) and carries a large inventory for purchase or rent. With over 20 years in the medical equipment business we can help you fulfill your equipment needs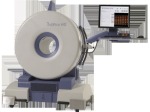 "There have been significant reductions in reimbursement for myocardial perfusion imaging with SPECT devices," Josh Gurewitz, VP sales and marketing, Spectrum Dynamics, North America, says. "This, combined with changes in the criteria on how MPI studies are ordered, has created a downturn in the number of systems purchased in the U.S. per year."
Linked with this slump is the fact that customers are holding on to their nuclear cameras for 10 to 15 years, only buying new when they need replacements, explains DeGraaff.
"Because of the current state of the economy, customers really need to justify a new purchase," he says.
However, noting the growing needs in health care, reform, and the interest in reducing cost, David Webster, NeuroLogica's VP of sales and marketing, is optimistic that there will be a SPECT "renaissance".
"It is easier for a hospital to have a SPECT program," he explains. "The radiotracers have a longer half-life so they can be delivered. Hospitals are really going to start taking another look at SPECT."
DOTmed Registered 2012 - June - SPECT & Gamma Camera Companies
Names in boldface are Premium Listings.
Domestic
Debbie Wong, Spectrum Dynamics
, CA
William Carroll, Eclipse Systems Inc.
, CT
Moshe Alkalay, Hi Tech Int'l Group
, FL
DOTmed Certified
Grant Norris, Associated Imaging Services
, KS
DOTmed Certified
DOTmed 100
Steve Rentz, Block Imaging International
, MI
DOTmed 100
Anthony Gualtieri, Nuclear Medicine Resources Inc.
, NJ
Kenneth Smith, BC Technical
, UT
DOTmed Certified
Tom Luque, ECS Nuclear
, WA
International
Reno Itzhaki, Eltec Eng. Medical Systems Ltd.
, Israel
Gilberto Mangual, ImageTek
, Puerto Rico
Back to HCB News