by
Loren Bonner
, DOTmed News Online Editor | June 11, 2012
From the June 2012 issue of HealthCare Business News magazine
A spokesperson with the city's economic development department told DOTmed Business News that the ball was in Positron's court as far as moving ahead with the project. In the agreement, Positron will receive incremental chunks of funding from the city, but only after the company reaches an agreed upon investment minimum with the company proposing a total capital investment of $55 million.
Despite the ups and downs this year, as it relates to the PET market, dealers remain optimistic for the future.

Quest Imaging Solutions provides all major brands of surgical c-arms (new and refurbished) and carries a large inventory for purchase or rent. With over 20 years in the medical equipment business we can help you fulfill your equipment needs

"PET is not dead by a long shot. Rubidium is coming back and additional radioisotopes are hopefully coming by the end of this year," says Josh Nunez, PET and PET/CT product manager at Block Imaging International Inc.
A paradigm shift for PET cardiac imaging
Bracco's rubidium has maintained a strong hold on the market since it was cleared for PET heart studies by the FDA in 1989. But this could change soon with the introduction of a new myocardial perfusion agent for PET from the Mass.-based diagnostic imaging company, Lantheus Medical Imaging, Inc. It's expected to receive FDA approval next year.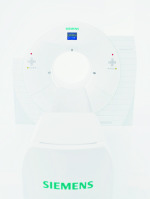 "When rubidium was pulled off the market last July, that brought the curtain down on act one. We're in intermission right now. Act two might begin with a competitor, which will then bring down the cost of rubidium. No doubt," says Bogutski.
Bracco's rubidium generators cost end users almost $500,000 a year. That's a big investment for just one component of PET. But Lantheus' 18 F-Flurpiridaz, when it becomes available, could rearrange the playing field.
"That tried and true model that was successfully applied to SPECT perfusion cardiac imaging—buying unit doses—will be applied to PET perfusion cardiac imaging, and that's going to result in a noticeable expansion of cardiac PET use," says Bogutski.
Lantheus' fluorine-18 derivative uses similar pharmacokinetics to SPECT cardiac imaging with technetium agents. "In place of the glucose-dependent chemistry of FDG, this cardiovascular targeted chemistry allows it to localize in the muscle of the heart," says Bogutski. F-18 has a much longer half-life than Rubidium—almost two hours, as opposed to rubidium's 75 seconds. This is what allows the unit dose distribution model to be possible, potentially changing the economics for cardiology practices and allowing many more to offer PET diagnostic solutions, since the expense of the contract purchase of rubidium generators is virtually eliminated.