by
Diana Bradley
, Staff Writer | March 16, 2012
From the March 2012 issue of HealthCare Business News magazine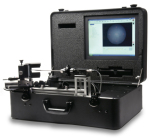 The quality of colonoscopy reporting and performance in daily clinical practice was also recently assessed by researchers in the Netherlands, in a study printed in the January issue of "GIE: Gastrointestinal Endoscopy," the American Society for Gastrointestinal Endoscopy's scientific journal. While colonoscopy performance met the suggested standards, researchers found it varied considerably between endoscopy departments. The study highlighted the importance of implementing and monitoring quality indicators and guidelines to improve both colonoscopy reporting and performance.
In 2010, the Joint Commission (in their Elements of Performance for EC.02.04.01, EC.02.04.03) stated that endoscopes are to be tested before use. But according to Waite, many are not. He believes this glaring omission needs to be addressed.

Numed, a well established company in business since 1975 provides a wide range of service options including time & material service, PM only contracts, full service contracts, labor only contracts & system relocation. Call 800 96 Numed for more info.

"At the moment, a lot of attention is being paid to endoscopes in general and how they are being used, now that they need to be tracked in the hospitals," he explains. "And so that's raised a lot of awareness in the hospitals' clinical and biomedical engineering departments. They have started to look for tools to be able to track the scopes to measure quality, but there hasn't really been anyone monitoring quality of endoscopes in the hospital."
Lighthouse Imaging is the only company currently manufacturing an instrument that quantitatively measures the image quality of scopes – the EndoBench Endoscope Image Quality Tester. The EndoBench measures a scope's image quality using image processing or a machine vision system. Historically, instead of a computer, the human eye was relied upon to look at a target through the scope and make a qualitative or subjective assessment regarding the quality of the scope. Companies making non-medical optics, including photography equipment have been using quantitative measurement metrics for years, according to Waite. But his company is the first to bring those measurement metrics to the medical optics industry.
"What a technician sees at 8 a.m. is different than what the same technician sees at 4 p.m.; after 8 hours their eyes get tired," says Waite. "That's not really a repeatable assessment. But the EndoBench makes repeatable measurements."