Sometimes, the paperwork involved in installing and deinstalling imaging equipment can be just as heavy a lift as the technology itself.
"Things have changed, even getting into a hospital for a job is not as easy as it used to be, with increased security," Russ Knowles, president and CEO of REMETRONIX, told HealthCare Business News. "There's more scrutiny of the regulatory process. Credentialing and safety standards are escalating, equipment has to be calibrated, and there are decommissioning and disposal regulations to follow. And everything is traceable."
With 30 years in the industry and 2,500 OEM projects a year, Knowles understands the importance of attention to detail — and there are an increasing number of details when it comes to bringing in and taking out hospital equipment.
To deliver high-quality work, Knowles said his focus is on people, both his staff and all onsite staff, to keep them safe in the performance of their duties. Part of that effort includes a vigorous quality group that performs thorough risk assessments before any job. That can mean an upfront, detailed analysis for up to 50 jobs at once.
Such multitasking is possible because the company has transformed their workflow using a software platform.
"We did 300 jobs in March," said Knowles. "We can't do that the old-fashioned way, we need automation on our side. Our workflow has been refined to ensure redundancy in communication, to coordinate logistics such as trucking, cranes, and forklifts, as well as with the foreman and team leaders who need to do execute the project."
Not that surprises don't crop up, like a high wind that makes it dangerous to put a crane on site. But Knowles stressed that their preplanning is efficient at preventing "showstoppers" from bringing an install or deinstall to a halt.
Last year he said they had no unexpected project delays. He spent nearly $700,000 on training last year on such programs as certified welding certification to enhance their radiotherapy capability.
"OEMs and facilities want an install or deinstall — which we can do back-to-back — that minimizes risk," said Knowles. "They want predictable, safe results."
Even though there is a lot of planning that goes into moving a 20,000-pound piece of equipment, Steve Lewis, owner of Brandon Transfer and Storage, said his clients are always appreciative to see them arrive on site for the big day. Physicians are an especially excited audience.
"After the job is done, the docs are usually shaking our hand and having a piece of pizza with us over lunch. Some of them would get down and operate the jacks if I let them," he added with a laugh.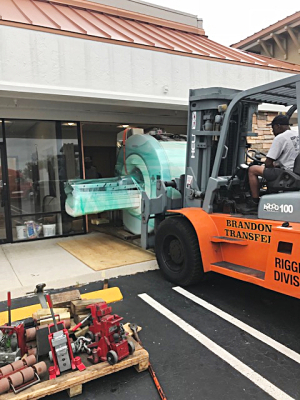 Like Knowles, Lewis has a long tenure in the rigging business; some 40 years. In most cases, Brandon Transfer and Storage takes out the old unit and moves the new unit into place. Contracting work, such as electrical, is usually handled by the client – although Lewis does, on occasion, arrange that part of the project. Lewis said his crew reviews the specs needed to make a move, such as having access to eight-foot openings throughout the entire egress.
Turns are especially sensitive and time-consuming, so the more corners they have to make with a piece of equipment, the higher the cost. He said that on average, each way of an install or a deinstall costs $4-6,000. A recent job at a Veterans Administration hospital demanded a dozen corner turns.
There is no excuse for an unsuccessful install or deinstallation. The job has to get done, no matter what challenges arise.
"I feel very lucky with our staff," said Lewis. "They're older, and they've seen a lot; if there's a problem — like a roller breaks or rigging legs aren't attached to the unit for a hoist — my crew stays calm, and figures it out. They are very customer oriented."
One of the main complications in an install is what can't be seen, according to Bob Iravani, owner of Chicago Medical Exchange. As both an install and deinstall expert, as well as a manufacturer's representative for several OEMs, his perspective is multi-dimensional. He's a stickler for room preparation and the challenges that often arise.
"I call it peeling back an onion layer by layer to see what's there," said Iravani. "It's not uncommon to find we can't put a breaker box where we planned because there's an unmarked I-beam or duct behind a wall. So we often have to work with hospital engineering, radiology, and bioengineering to make modifications on the fly."
He does not fault customers for surprises; it's just part of the job. After all, even large facilities don't do an install and deinstall very often, and there's a lot to know. Iravani works to be accommodating and counts on some change modifications in the project.
Jeremy Fox, operations coordinator for DirectMed Parts, said his company tries to have its first discussion with a client a month ahead of the project. It works best, he said, with good communication well in advance and flexibility on both sides in the event of any unplanned wrinkles. The most common complication he encounters is when smaller imaging centers don't have a construction crew on-site (unlike hospitals).
"Those clients can be surprised by what is involved if they are not familiar with this type of project," he said. "Earlier this year I did a project where the imaging center management, despite upfront discussions, still did not realize that an entire section of windows needed to be removed. It worked out okay, but I had to walk them through the process a day before rigging out."
Deinstallation comes with its own set of needs. Craig Diener, senior product manager for Universal Medical Resources cited several checklist points of preparation for a deinstallation. An inventory of the system, including system components, workstations, peripherals, software, and manuals needs to be included. If the client plans to sell their used system, they should allow three to six months to get the best sale price. The market primarily drives demand at any given time for specific machines, so be aware of what a unit is worth.
Another crucial step is to remove patient data, not just removing any hard drives. The offer price for a system can be lower if the hard drives are removed, so Diener recommends working with a company specializing in data scrubbing.
Even with proper preplanning, unexpected obstacles will appear. Diener said it's important not to panic.
"Common issues can include such factors as the site plans to keep a workstation, but the removal crew was not notified. Or the elevator is too small, or the system is not the model advertised," he said.
In such cases, the site leader and de-installation leader should call their managers and let them resolve the issues. This could cause a slight delay in the process. But he stressed it's best to let the negotiating parties manage the discrepancy, and come to an agreement so the removal can stay on schedule.
Diener also advises planning a deinstallation well in advance.
"We receive many requests from customers and brokers who have a system for sale and the last sentence from them is that it has to come out next week." He said. "We run several de-installation teams and try to accommodate last minute removals if possible."