When faced with surgery, it goes without saying that patients favor the most minimally invasive route. This is why physicians now regard new and innovative endoscopic devices as the primary method of diagnosis and treatment ahead of imaging scans. Enabling access to hard-to-reach regions of the body, endoscopic procedures enhance patient outcomes and reduce hospital stay and recovery times. So it comes as little surprise that endoscopy is among the top growing sectors in the medical device industry.
Generating sales of $23.3 billion in 2010, the global market for endoscopy devices will rapidly grow to $49 billion by 2017 and $75.8 billion by 2022, forecasts business information provider visiongain's January report, "Endoscopy Devices: World Market Outlook 2012-2022." The leader in the global rigid endoscopes market is Karl Storz, with a market share of 36 percent, followed by Olympus Medical Systems Corp. with a 32 percent market share. Richard Wolf GmbH, Stryker Corporation and B. Braun Melsungen AG also have significant presence in the market, according to research firm GlobalData's July report, "Rigid Endoscopes - Global Pipeline Analysis, Competitive Landscape and Market Forecasts to 2017." As of 2010, companies that accounted for 90 percent of the global market share for the flexible endoscopes market were Olympus, with a market share of 67 percent; followed by Fujifilm and Hoya, says GlobalData's July report, "Flexible Endoscopes - Global Pipeline Analysis, Competitive Landscape and Market Forecasts to 2017."
On the refurb side, Olympus has continued to triumph, with the most sought-after products being the Olympus Q160 series of scopes, according to Harvey Buxbaum, president of HMB Endoscopy Products.
"These scopes produce excellent full screen images with magnificent resolution, so the demand for the Q series is high," he says. "However, supply is relatively low, thus keeping the prices from trending downward as the equipment ages."
The endoscopy industry has also seen much consolidation in the past year. Mark Waite, CEO of the Portland, Maine-based Lighthouse Imaging Corporation, says one of the biggest stories was in September when scope repair company SterilMed was acquired by original equipment manufacturer Ethicon Endo-Surgery, a division of Johnson & Johnson. He notes that a big chunk of the market's consolidation is due to increased OR integration.
"A company like Karl Storz can go into a hospital and say, 'We can outfit the whole OR with beds, lights, endoscopy equipment and scopes,'" says Waite. "If you're a company only focused on endoscopy equipment, you are probably not going to get designed into some of the bigger hospitals; you're going to have to focus on a certain niche."
Arthroscopic advantages
The U.S. arthroscopy device market — a major contributor to the endoscopy market — is also set to experience moderate growth through 2016, according to the Millennium Research Group, Inc.'s November report, "US Markets for Arthroscopy Devices 2012." The market will double to over $4.2 billion by 2017, adds iData's June 2011 report series on the markets for "U.S. Arthroscopic Devices" and "U.S. Soft-Tissue Repair."
In 2010, knee and shoulder procedures dominated the over 4 million arthroscopies performed in the U.S.; however, the hip arthroscopy segment is the fastest growing, according to the report. Small joint and hip arthroscopy procedure volumes have increased, along with shoulder arthroscopy procedures, says Dr. Simon Moyes, consultant orthopaedic surgeon at the Wellington Hospital in London.
"I perform a lot of ankle arthroscopy and suspect that instruments designed for accessing the posterior compartment of the ankle joint will evolve as will curved arthroscopic instruments to access the dome of the talus together with the evolution of the radio frequency probe," he says. "In the hip, I see the evolution of more and more arthroscopic suturing techniques for labral repairs."
In the U.S., an increasing number of sports-related injuries and advancements will fuel the arthroscopy device market, according to Millenium's report.
"Certainly more and more people indulging in sports are sustaining sport related injuries and the natural evolution of arthroscopic surgery means more and more arthroscopies are being performed," says Moyes. "This is also fueled by generally increased longevity of people in the west."
Moyes cites radio frequency probes (probes which are more powerful and produce fewer bubbles in the joint therefore affording better visibility with less risk of thermal damage) from companies like Mitek; and Smith & Nephew's platinum, multi-functional blades, as being the hottest commodities of the moment among arthroscopic surgeons.
Within the soft tissue and sports medicine market, companies such as Arthrex, ArthroCare, ConMed Linvatec, DePuy Mitek, Smith & Nephew and Stryker lead the market. Smith & Nephew and Arthrex lead the hip arthroscopy market, while Stryker recently launched its platform in a bid to gain market share in this growing segment.
Endoscopy utilization increases as cancer and obesity rates escalate
The U.S. represents the single largest regional endoscopy market worldwide and the market, along with the number of American citizens, is growing. Demand for gastrointestinal endoscopy is rising, with many turning to gastric bypass and gastric banding to aid in their weight-loss as obesity rates soar.
Asia-Pacific represents the fastest growing regional market displaying a compound annual growth rate of 8.3 percent over a six-year historic analysis, according to research firm Global Industry Analysts, Inc.'s October report.
With economies in Brazil, Russia, India and China on the rise, Visiongain's report predicts that increased wealth will lead to a hike in health care spending, medical insurance coverage and adoption of westernized lifestyles — particularly diet. Consequently, obesity and cardiovascular disease instances will ramp up, resulting in an increase of laparoscopic weight-loss procedures.
But the major force driving the endoscopy equipment market will continue to be colonoscopy screenings, according to Buxbaum. With more than 1 million new cases of colorectal cancer reported each year worldwide, cancer is one of the leading reasons for surgery.
"Speaking for flexible endoscopy, it seems as if colon cancer awareness has increased the number of colonoscopy screenings and therapeutic colonoscopy procedures," says Buxbaum. "In addition, the development of newer, less invasive endoscopic procedures for other gastrointestinal medical conditions, have also added to the number of procedures being performed."
50 percent of Americans who should be screened for colon cancer avoid a colonoscopy, according to the Centers for Disease Control and Prevention's most recent statistics. But the mortality rate can be reduced by up to 90 percent by colonoscopies and capsule endoscopies.
Capsule endscopes advance and gain popularity
Capsule endoscopy has been one of the fastest areas of revenue growth for gastrointestinal device manufacturers, annually growing 12.9 percent since 2007, notes a January report by research firm Kalorama Information.
Approved in the U.S. in 2000, capsule endoscopy is a way to see what is going on in the middle of the small intestine, which scopes for colonoscopy and upper endoscopy cannot reach. A single capsule endoscopy costs around $1,000 and produces about 50,000 images for doctors to read within 30 to 90 minutes, which elevates the risk of missing something.
Brigham and Women's Hospital in Boston and Tel Aviv University's researchers are currently creating an MRI-guided capsule that provides images of the digestive tract. This technology may help ease fears associated with colonoscopy screenings. Researchers say the new device would improve upon current technology, combining the endoscope's control and real-time imaging with the safety and ease of a pill. Steered with wireless and MRI technologies, the new capsule can swim with the magnetic current, with tails made out of copper coils and flexible polymer. It is still early days for the device, which still needs to undergo animal testing and trials before entering mainstream treatment.
The tiny cameras of current capsule endoscopy technology only capture images at random intervals, rendering the technology ineffective in cancer screening. To confirm diagnosis, it is common for patients to require a second procedure. Although the procedure is considered low-risk, about one percent of the time, the capsule has a chance of becoming lodged in the digestive tract, which may require removal with a scope or through surgery. But aside from obstacles with capsule endoscopy technology, human error is also a major issue. In a study published in the American Journal of Gastroenterology in January, researchers found that doctors who read results from pill cameras often fail to catch abnormalities. Doctors in the study were only able to detect between 43 percent and 47 percent of abnormalities, when looking at images in three of the four most commonly used reading modes. With the fourth reading mode, doctors only detected 26 percent of abnormalities. Researchers recommended that to counteract this issue, a second doctor should look at capsule endoscopy images to help avoid misses.
Regardless of risks, the technology's benefits to patients are considerable. As a non-invasive approach to diagnosing conditions in the small bowel and detecting small pathologies, the technology is also cost-effective, administered on an outpatient basis.
"As far as diagnostic equipment goes, I think pill cams are a big advancement," says Chris Leman, senior vice president of refurb company, Scope Connection. "A pill can go through virtually the whole GI tract, providing images for diagnoses that were only accessible in the past through surgery."
Major endoscopic capsule suppliers include Given Imaging – with its PillCam Capsule; and Olympus – who in September 2007, as part of the EnteroPro brand of products, launched the Endo Capsule for visualizing small bowel mucosa. Olympus' product uses six LEDs, which offer automatic lighting, two images per second transmission and an eight-hour recording time.
"There is talk that they are working on pill cameras with therapeutic capabilities," Leman says. "Maybe small biopsies and things like that."
New techniques and technologies
There has been an increased development and interest in improving core imaging technologies through contrast enhancement, optical biopsy technologies and endoscopic ultrasound, explains Kurt Cannon, the vice president of sales and marketing for Fujifilm Medical Systems U.S.A. Inc.'s Endoscopy Division.
"Two specific areas that come to mind are ablative therapies for Barrett's esophagus, and device-assisted deep small bowel enteroscopy such as double balloon enteroscopy," adds Dr. Stephen Heller, associate professor of medicine at Temple University's Division of Gastroenterology at Fox Chase Cancer Center, Philadelphia, Pa. "Double balloon enteroscopy has opened a new frontier of minimally invasive access to the small intestine, with the ability to diagnose and treat diseases of the small bowel which were previously directly accessible only via surgery."
Another major development in endoscope technology has been the emergence of 3D high definition imaging. HD – previously only really known as a consumer term for TVs – has now crossed over into the medical technology industry. LED sources or bulbs are also more commonplace in the market today. But these advancements come with higher price tags.
"In the case of a light source that is now using an LED source or bulb, the cost is justified because an LED source is going to last much longer, will stay brighter for longer and consumes a lot less power," says Waite. "If you are able to pay slightly more at the purchase point and your savings are realized on an ongoing basis, that's good business."
The growing preference for disposable instruments over conventional re-usable instruments will also be a great aid to the endoscopy systems market. "Disposables are in many ways easier to manage, as they cut down on disinfection costs and the specter of transmitting infection in the endoscopy unit," says Heller.
As for the future of flexible endoscopic procedures, natural orifice transluminal endoscopic surgery – a minimally invasive surgical procedure allowing access to internal organs using a flexible endoscope – is expected to extend flexible endoscopes' capabilities for use in more advanced interventions and surgical procedures, enabling more sophisticated diagnosis and therapy options.
Safety and quality concerns
A red flag has recently been raised regarding quality assurance in endoscopy – and not just in the U.S. In October, it was discovered that a non-hospital clinic in Ottawa was not following proper cleaning and infection prevention procedures with its endoscopic equipment. Public health officials sent out more than 6,800 letters to residents indicating that patients might have been exposed to hepatitis B, hepatitis C or HIV due to the clinic's carelessness. As of January, the Canadian Association of Gastroenterology has new Consensus Guidelines on Safety and Quality Indicators in Endoscopy, developed by a group of 35 Canadian, European and U.S.-based participants.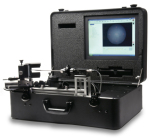 The quality of colonoscopy reporting and performance in daily clinical practice was also recently assessed by researchers in the Netherlands, in a study printed in the January issue of "GIE: Gastrointestinal Endoscopy," the American Society for Gastrointestinal Endoscopy's scientific journal. While colonoscopy performance met the suggested standards, researchers found it varied considerably between endoscopy departments. The study highlighted the importance of implementing and monitoring quality indicators and guidelines to improve both colonoscopy reporting and performance.
In 2010, the Joint Commission (in their Elements of Performance for EC.02.04.01, EC.02.04.03) stated that endoscopes are to be tested before use. But according to Waite, many are not. He believes this glaring omission needs to be addressed.
"At the moment, a lot of attention is being paid to endoscopes in general and how they are being used, now that they need to be tracked in the hospitals," he explains. "And so that's raised a lot of awareness in the hospitals' clinical and biomedical engineering departments. They have started to look for tools to be able to track the scopes to measure quality, but there hasn't really been anyone monitoring quality of endoscopes in the hospital."
Lighthouse Imaging is the only company currently manufacturing an instrument that quantitatively measures the image quality of scopes – the EndoBench Endoscope Image Quality Tester. The EndoBench measures a scope's image quality using image processing or a machine vision system. Historically, instead of a computer, the human eye was relied upon to look at a target through the scope and make a qualitative or subjective assessment regarding the quality of the scope. Companies making non-medical optics, including photography equipment have been using quantitative measurement metrics for years, according to Waite. But his company is the first to bring those measurement metrics to the medical optics industry.
"What a technician sees at 8 a.m. is different than what the same technician sees at 4 p.m.; after 8 hours their eyes get tired," says Waite. "That's not really a repeatable assessment. But the EndoBench makes repeatable measurements."
Better-managing scopes and using quantitative means for measuring quality, Waite adds, also enables hospitals to save a significant amount of money.
Challenges: Regulations and legislation
There is a "perfect storm" with regard to health care reform in the endoscopy market, according to Fuji's Cannon. He notes that while health care reform has provided easier access to colonoscopy screenings for patients, potential health care legislation drives down the reimbursement for performing colonoscopy screenings. There is an industry-driven demand for quality outcomes and benchmarking, but historic Centers for Disease Control and Prevention data indicate that the market demand that will exist for future colonoscopy screenings cannot be met by the current supply of product, room time and procedure time. Further to this, increasingly strict FDA regulations are slowing the clearance process for endoscopic equipment, which could impact the sector's technological advancement. In addition, the proposed 2 percent tax on medical devices may begin to show an impact on the industry's ability to support education, fund research and development and develop new technologies in the U.S.
"In general, increasing regulations at the FDA are impacting the entire device manufacturing industry," says Cannon. "Overall summary is that an increase in patient population with a potential decrease in reimbursement will certainly have an impact on the market sector."
Despite these challenges, the future of the endoscopy devices market appears promising and has significant potential for growth and investment with the increasing demand for safer, less invasive therapies.
DOTmed Registered 2012 - Arthroscopy/Endoscopy Companies
Names in boldface are Premium Listings.
Domestic
Clinton Courson, Quest Medical Supply, Inc.
, FL
DOTmed Certified
DOTmed 100
Marcelo Salvade, SH Medical Corp
, FL
DOTmed Certified
DOTmed 100
Scott Mattfeld, Authorized Acquisitions LLC.
, IL
Alda Clemmey, Saffire Medical
, MA
DOTmed Certified
DOTmed 100
David Weiss, Mediflex, Inc.
, CA
David Reier, OEM Medical Solutions
, MD
Alberto Voli, Zgrum Medical
, AZ
DOTmed Certified
DOTmed 100
Gayle Butler, Advanced Endoscopy Devices, Inc.
, CA
Chris Leman, Scope Connection
, CA
Mark Charaf, Global Medical Sales and Repair
, CA
DOTmed Certified
Ramon Manalo, Jr., Requests International
, CA
Carolina Olivera, American Medical Endoscopy
, FL
DOTmed Certified
Kevin Blaser, Coast to Coast Medical
, MA
Christine Marley, Medical Device Store
, MA
Jim Rygiel, Spectrum Medical
, OH
Mark Waite, Lighthouse Imaging Corporation
, ME
Dina Helmi, Medstar
, MI
Marcus Rosenberg, Endoscopy Development Company
, MO
Edward Soto, SterilMed
, NC
Randy Ware, West Coast Medical Resources
, FL
Todd Abrams, RRC Rigid Repair Center
,FL
Matt McRoberts, MTM Medical
, FL
Bruce Mason, Advanced Endoscopy Solutions
, FL
DOTmed Certified
Tony Anzalone, PMR Medical Devices
, FL
DOTmed Certified
Monte Montain, Alternative Source Medical
, IL
DOTmed Certified
Mike Solot, Kingsbridge Healthcare
, IL
DOTmed Certified
Danny Tipei, Inex Surgical Camera & Power Repair, Inc.
, IL
DOTmed Certified
Bob Gaw, PRN
, MA
DOTmed Certified
Pamela Dobbs, Dobbs Medical
, TX
DOTmed Certified
Daniel Finerman, Danan Medical Systems
, FL
DOTmed Certified
DOTmed 100
Addam Arrington, Pilot Medical
, TN
DOTmed Certified
DOTmed 100
Wendell Haight, MedServ International - EndoCure Technologies
, MD
Kurt Nierengarten, Medical Recovery Company Inc.
, MN
Lori Morrison, Life Systems, Inc.
, MO
Stuart Jackson, Pro Scope Systems
, OH
DOTmed Certified
DOTmed 100
Tom Boston, US Medical Systems
, SC
Sean McCauley, Small Diameter Repair LLC.
, TN
DOTmed Certified
Harvey Buxbaum, HMB Endoscopy Products
, FL
DOTmed Certified
International
Patrick Chapus, AGITO Medical
, France
DOTmed 100
Sunil Kanjwani, SaikrupaEnterprises
, India
Nasir Khan, DEANS MEDICAL EQUIPMENT
, Pakistan
Notwen Cardozo, Endoscopy Solutions
, Brazil
Mehmet Er, TEPA, Inc.
, Turkey
Sharon Liran, All 2 Med
, Israel
Hiroyoshi Miyama, M-Cast Inc.
, China
DOTmed 100
Welshen Gao, DODODO Medical Equipment
, China
M. Ashfaq, Endosource, Inc.
, Canada
DOTmed 100