By Kerrie Warne and Bob Ellis
This report originally appeared in the September 2011 issue of DOTmed Business News
Bariatric surgery has generally become a safe and effective method for treating morbid obesity. As with other types of advanced procedures, patients often gain the best results and fastest recovery at a Center of Excellence site. St. Alexius Hospital's NewStart bariatric surgery program is one of the largest in the Midwest, with nearly 600 surgeries performed annually.
The hospital's Bariatric Surgery Center of Excellence has been certified by the American Society for Metabolic and Bariatric Surgery (ASMBS) since 2006. Four board-certified surgeons perform three types of bariatric surgical procedures, all of which are done laparoscopically: adjustable gastric banding, Roux-en Y gastric bypass, and the newest technique which is sleeve gastrectomy. The gastric bypass divides the stomach into two sections and an opening is created in the upper pouch. Then a Y shaped section of small intestine is connected to the upper stomach pouch, bypassing the first part of the small intestine. The banding procedure restricts the stomach to a much smaller size and gastrectomy involves cutting and removing 80% of the stomach, which reduces both food absorption and appetite.
Pre-operative exams and screenings are essential for all surgical candidates. Imaging exams include fluoroscopic upper GI exams and chest X-rays that are used to indentify a host of conditions that could complicate or prevent bariatric surgery including: lung lesions or cancerous masses, pneumonia, COPD or other pulmonary diseases, and congestive heart failure.
In addition, blood tests, cardiac stress tests and other exams are conducted as indicated by the patient's existing medical conditions. After surgery, fluoroscopic upper GI exams verify the placement of the band and ensure there are no leaks around the staples used in the bypass and gastrectomy procedures.
Installation of a picture archiving and communication system (PACS) greatly expedites image review and collaboration among surgeons and other specialists by allowing image access and use of specialized reading tools from any onsite or remote workstation. Radiologists, cardiologists, pulmonologists and other specialists can access exams and reports using our VPN from their offices and homes. A PACS workstation on a cart is used in the operating suites, which are equipped with wireless networking capabilities so surgeons can view imaging studies during the procedure.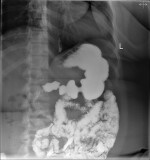 Advanced technology and surgical techniques, combined with the experience and expertise of our surgeons and staff, ensures exceptional patient outcomes. The band procedure is often completed in less than 20 minutes, the gastrecomy takes 45 minutes. The gastric bypass averages one hour. Reduced time under anesthesia translates to faster recovery times and less stress for patients. The NewStart program also includes lifetime nutrition counseling, which is essential for successful long-term weight loss.
Kerrie Warne, Director of NewStart Bariatric Program, has managed the Bariatric Center of Excellence at St. Alexius for 2½ years.

Bob Ellis, Director of Radiology, has worked at St. Alexius for more than 20 years and has overseen the hospital's conversion from paper and film to an all-digital workflow with CARESTREAM PACS and digital imaging technologies.